Beth Anne Pratt was born at the "old" Saint Peter Hospital in Olympia, Washington in 1970. The Pratt Family moved to Lacey (part of the greater Olympia area), in the fall of 1973 where She went through the North Thurston school system graduating from North Thurston High School in June of 1988. She did her undergraduate work at Lewis and Clark College in Portland, Oregon, graduating with a BA in anthropology in 1992. Her graduate work was undertaken at Boston University where she received her Masters in 1995 and her Ph.D. in fall of 2002. Her focus of study at B.U. concerned the Maasai of northeastern Tanzania , Africa. Her dissertation entitled Childhood, Space And Children "Out Of Place": Versions Of Maasai Childhood In Monduli Juu, Tanzania" was defended and accepted at the end of October, 2002. Beth married Dr. Simon Heck, who also received his Ph.D. at Boston University on December 6, 1997. They were married a second time on June 12, 1998 in Durmersheim , Germany where Simon was born and raised.
They settled first in Kampala, Uganda and then in Nairobi, Kenya where their daughter, our granddaughter, Juliane Marion Heck, was born in the fall of 2001. They then lived in Cairo, Egypt where our twin grandsons (Jakob and Thomas) were born early in 2005. In the fall of 2006, the Heck Family moved to Lusaka, Zambia.where Simon worked as a Research Scientist for the WorldFish Center . In the fall of 2012, Simon left the WorldFish Center and took a position with the International Patato Center (CIP), also a part of the CGIAR Agricultural Consortium and in January of 2013 the family moved back to Lusaka, Uganda.

In January 2008, at the invitation of her good friend, Dr. Laura Frost, Beth along with Laura and another Laura created Global Health Insights, LLC. During 2008, they worked on projects funded by the Rockefeller Foundation, the Gates Foundation and the World Bank, mostly on issues of financing and access to health services and technologies in the developing world. Beth may be reached at bethannepratt@glohi.org.

The Heck Family returned to Nairobi, Kenya in summer of 2018 where Simon continues as a Program Leader for the International Potato Center (CIP).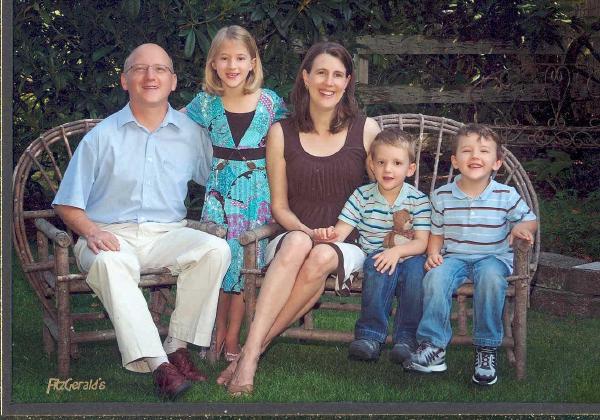 Family Heck - Simon, Juliane, Beth, Jakob and Thomas